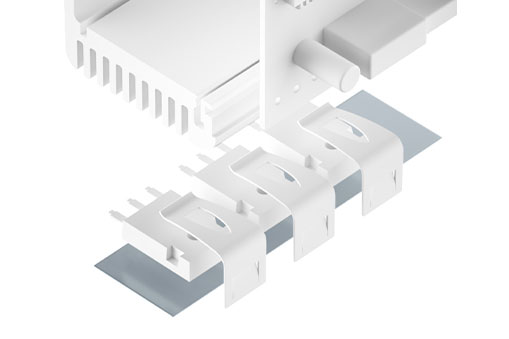 In many power electronics applications, the challenge is to find a synthesis between thermal resistance and reliable dielectric insulation. Material thickness and thermal transition are key factors on the way to an optimal solution. Often, the material used must have a certain thickness in order to accommodate burrs or edges of components and thus prevent electrical breakdown. A high level of safety can only be guaranteed if the material itself has a very high dielectric strength. This is a challenging problem for which we can offer our customers a tried-and-tested solution in the form of our thermal insulation films with glass fiber reinforcement. They are available in a wide range, and can thus be easily adapted to individual requirements.
With the TFO-Q-SI variant, we are now not only expanding our portfolio in this segment, but also introducing a new generation of silicone-based films with glass fiber reinforcement. These are available in three thicknesses (0.2 mm, 0.3 mm and 0.45 mm) and have thermal conductivities of 2 to 6 W/mK. The special feature here is that even the 0.2 mm thick insulation films have dielectric strengths above 5 kV. For most applications, therefore, the thinnest film thickness is sufficient to meet the required dielectric specification while minimizing thermal resistance.
At the same time, the high quality of the silicone matrix as well as the composite ensures high reliability of the insulation foils, which allows them to be used even under extreme conditions. The new generation of our thermal insulation films is available in the variants TFO-D-SI, TFO-G-SI, TFO-J-SI, TFO-Q-SI, TFO-O-SI.