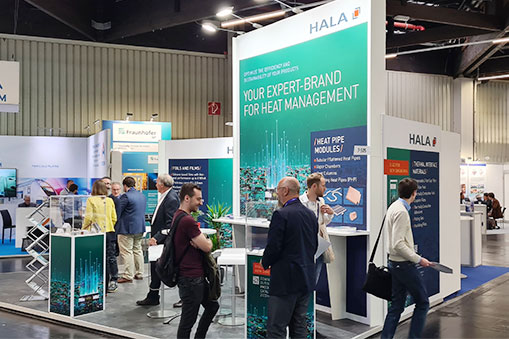 Once again, intensive and stimulating discussions with many professional visitors characterized our trade show days at PCIM Europe from May 09 to 11 in Nuremberg. At this point we would like to thank all people who found the opportunity to visit us at our booth.
Interest was high, among other things, in our demonstrator, where we were able to show our Pulsating Heat Pipes, which we developed together with JJ Cooling and which, among other things, enable an improvement in Fin Efficiency. Our new silicone-free Gap Filler Pads, which are available either as sheets or on rolls, and the phase change material coated films with pyrolytic graphite as a carrier substrate were also very favored by the visitors.
By the way: For those who did not have the opportunity to learn more about our services and our portfolio in the field of Thermal Management at this trade show, the next PCIM will take place from June 11 to 13 in Nuremberg.
Of course, a one-on-one meeting with our experts is a quicker way to find out more. Simply make an online appointment at: https://www.hala-tec.com/services/meet-our-experts/